The first year with eased-up COVID-19 restrictions, but with significant economic crisis. How did the life science dealmaking fare in the first half of 2022, following the banner year of 2021?
Decrease in IPOs, exits and M&A
Multiple reports signal a decrease in IPO activity amid inflation, recession fears and many key indices in the bear market for the first half of 2022. This has resulted in a reported 54.9% drop in the median IPO size since 2021.
Inflation and rising interest rates contributed to a lag in other exit types as well. In the US, just $2.3 billion in acquisitions closed in the first half of the year according to some sources (still not including the Biohaven/Pfizer deal), compared with $26.2 billion in 2021 and $16.6 billion in 2020. M&A activity is expect to gradually increase as we approach the 2025 patent cliff with several large players bracing for losing exclusivity in the US and European markets. Pressure is therefore mounting for companies to refill their pipelines with assets that may mitigate the expected loss in sales.
M&A deals value dropped, the largest announced deal valued at $11.6bn
According to the report from PwC the deal value has decreased by $61.7B over the first 6 months of 2022 which represents a 58% decrease in overall deal value versus the first half of 2021. Moreover, the number of actual M&A deals over the same time period has decreased by 33% to 137 compared to 204 in 2021. The largest announced M&A deal in the first half of 2022, Biohaven/Pfizer, is expected to come through in Q3 and reach an overall value of at least $11.6bn.
US VC deal activity dropped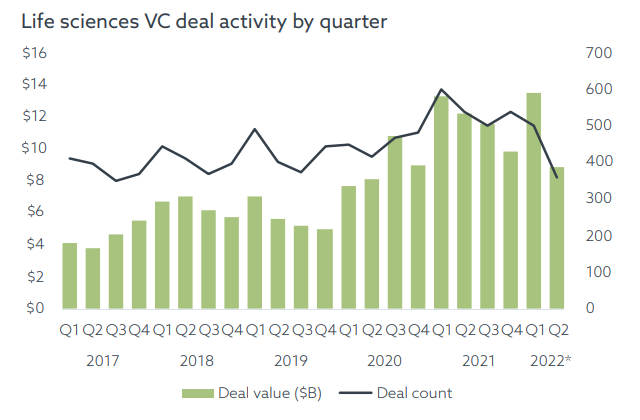 Figure 1: VC deal value and count over the past 5 years, divided by quarters (Source: Orrick Life Sciences Snapshot Q3).
The overall value of US VC deals has decreased and significantly lagged in count. Momentum stalled specifically in Q2, resulting in a 34.5% decrease from the prior quarter and the lowest deal value for a quarter since Q2 2020. The number of transactions concluded in Q2 2022 was significantly lower than projected due to the longer than anticipated period of market volatility, which caused investors to pull back significantly from perceived higher-risk stocks including biotechnology and early-stage pharmaceutical businesses.
Regulatory issues
Bolt-on transactions in the $5 to $15 billion range may become more prevalent in 2022 as pharma companies make multiple attempts to score in order to make up for revenue losses caused by generic competition over the course of the rest of the decade due to increased scrutiny from the US Federal Trade Commission (FTC) around larger deals.
Similar regulatory challenges are faced by other sectors of the industry, such as medical devices, which also continue to see a higher impact from semiconductor shortages. Expect these firms to continue concentrating on M&A as the subsector explores for alternate sources of revenue, notably from new consumer-centric technologies, despite the fact that the semi-annualized transaction value in the medical device market is down 85% from the same period the prior year. Medical device firms are also having a difficult time adjusting to the MDR regulation in the EU which causes uncertainty in portfolio valuations and revenue forecasts due to potential product discontinuations.With many key dealmaking events held in person in late summer and fall, let us see how does the second half of 2022 look like.
Sources:
https://www.pwc.com/us/en/industries/health-industries/library/pharma-life-sciences-deals-outlook.ht...
https://pharmaboardroom.com/articles/the-road-ahead-for-life-sciences-transactions-financing-in-2022...
https://www.jdsupra.com/legalnews/life-sciences-snapshot-a-quarterly-7784885/
https://www.fiercebiotech.com/biotech/biotechs-face-brutal-pipeline-decisions-industry-waits-ma-buff...
https://www.orrick.com/en/Insights/2022/07/Life-Sciences-Snapshot-A-Quarterly-Report-on-Financing-Trends-Q3-2022
Picture credits: Paper documents photo created by pressfoto - www.freepik.com
___________________________________________________________________________________________
Come and join many European dealmakers for the 11th edition of BioFIT, on November 29th & 30th, 2022 in Strasbourg and online on December 7th and 8th! Our network can benefit from a 10% discount with the code: BF22AMBIOM1706.
With the highest attending rate of TTOs, research institutes and academia together with big pharma, emerging and small biotech, diagnostics companies, pre-seed / seed / Series A investors, BioFIT is the leading partnering event in Europe for technology transfer, academia-industry collaborations and early-stage innovation deals in the field of Life Sciences. BioFIT is also the European marketplace for pre-seed, seed and Series A investment in Life Sciences.

KEY FIGURES:
∙1,000+ delegates
∙900+ organisations
∙35+ countries represented
∙1,015+ deals generated in 2021

INSIDE THE EVENT:
∙A business convention with pre-qualified one-on-one meetings
∙Project - CEO matchmaking
∙Conferences and roundtable discussions
∙Pitch sessions

oStart-up Slams
oCollaborative and Licensing Opportunity Presentations
oAnimal Health Presentations
∙An exhibition area
Website: www.biofit-event.com
Contact: mpentier@eurasante.com