The black swan event nobody could have really predicted. 400 million cases around the world and a significant strain on healthcare systems, and the physical and mental capacities of people globally. Could there be a silver lining to the ongoing COVID-19 pandemic? The fact is that COVID-19 sped up the development and adoption of many different medical technologies and broadened, almost popularized, the usage of many existing ones. Let's examine what did the first year of the pandemic mean for the diagnostic market in numbers.
Global diagnostics market
According to a report by PwC Italy, the 2019-2020 year-over-year growth of the global IVD market amounted to 45.7% with a nominal growth from €55.2bn to €80.2bn. With the forecasted global CAGR of 6.9% over the next several years, the effect is expected to persist. Perhaps surprisingly, due to the impairment of routine testing some of the diagnostic areas experienced a year-over-year decrease, this loss was more than made up for by two segments directly related to COVID-19 testing; immunoassays (such as antigen and antibody tests) as well as molecular diagnostics (e.g. rtPCR workflows). Specifically, the global molecular diagnostics market segment has experienced a staggering 230.9% year-over-year growth in 2019-2020 (1).
What about the EU?
Similarly to the global market, there was a remarkable increase in the usage of diagnostics between 2019 and 2020. The spread was, however, very wide. The highest increase was registered in Austria at 61.5%, the lowest in Croatia at just 3.5%. Across the 27 countries of the EU, the average registered growth was 26.7%. The scenario was the same as on the global scale, whilst COVID-19-driven molecular and immunoassay testing was up, many countries reported double-digit decreases in e.g. clinical chemistry testing (2).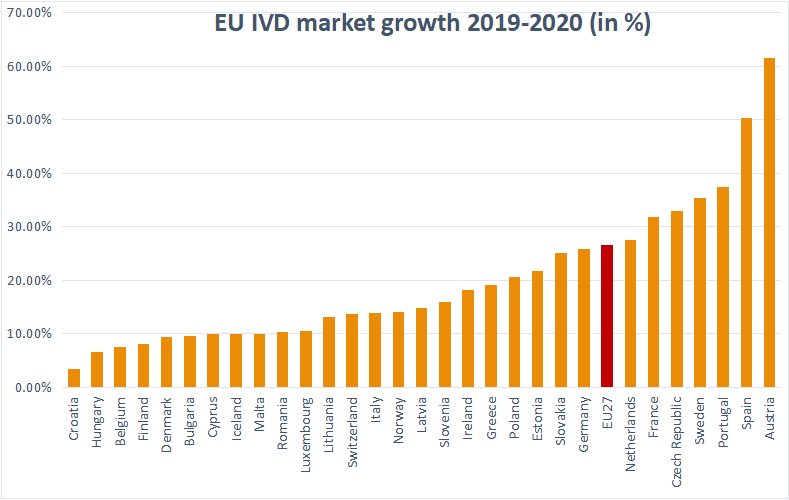 We will only be able to observe the real dynamics of the market once the pandemic is finally behind us. Still, the trend seems to be clear and we believe COVID-19-driven expanded utilization of diagnostics is here to stay.
To learn how we can work with you on your projects in diagnostics, get in touch here info@ambiom.com.
Sources
(1) https://www.pwc.com/it/it/publications/assets/docs/pwc-IVD-market-trends-overview.pdf
(2) https://www.medtecheurope.org/wp-content/uploads/2022/01/european-ivd-market-statistics-report-2021.pdf