Next-generation sequencing (NGS)—a form of DNA sequencing that can examine millions of DNA molecules simultaneously—is proving to be crucial to the successful execution of the concept of precision medicine in oncology but its utility is expected to quickly spread across therapeutic indications. Through such advanced sequencing, the genomic and genetic profile of a patient with cancer or other disease can be assessed, which can then be used to help guide patients to the most suitable therapies.

Recently, the most important player of the sequencing market - Illumina, has announced its ability to routinely sequence the whole human genome for $200 with its newest addition to the sequencing device portfolio NovaSeq X. Still more NGS-based companion diagnostic devices are coming about yet despite the significant clinical and economic benefits that NGS could deliver, there are barriers impeding the broader uptake of NGS in clinical practice.

What are the current important topics among payers, appraisal and regulatory bodies in terms of clinical implementation of NGS solutions ?
1. Lack of Policy Framework: Strategic Policy Action Plan for NGS access in oncology at ISPOR
To discuss the advantages of NGS, the significance of the current barriers preventing patient access to NGS, and what potential policy solutions could address these barriers, ISPOR gathered a number of top experts in May 2022. The panelists emphasized the need for action in a number of areas, including the diagnostic governance framework, the method of funding and reimbursement, and improved NGS education, if patients are to benefit from the advancements of NGS. A shift in the access paradigm will necessitate collaboration among all parties involved, including payers, policymakers, patients, clinicians/providers, and manufacturers of diagnostics and treatments, even though the specifics of the NGS access challenges can vary from region to region and country to country.
The consensus of the key presented document was that while there is a wide range of potentially important policies that would support access to NGS, there are 3 policy initiatives that could be prioritized:
Establishing an effective governance framework for NGS
Optimizing approaches and frameworks used to assess the value of NGS and the allocation of funding
Taking political action to create a strategic framework that addresses the different aspects of funding, education, and implementational and legal considerations, and involves all stakeholders, including policy makers, clinicians, payers, and patients
2. Slow uptake in the EU: Europe is lagging behind in adoption and guideline inclusion
The degree of access to NGS testing for oncology indications varies geographically as illustrated below. The left-hand side of the map focuses on non-NGS, (ie, single-biomarker testing), while the right-hand side represents NGS (generally pointing to less access with NGS compared to single-biomarker testing). The index used demonstrates that access is a multifactorial issue. Additionally, it includes a measure of laboratory access (including regional availability of diagnostic labs and the efficiency of referral pathways), the availability of NGS testing, integration of testing into clinical practice, and NGS test reimbursement. As of today, there are wide disparities within and between countries. 

The overall infrastructure and access environment for NGS is most advanced in the United States, where NGS testing is supported by ASCO guidelines and reimbursement is covered via Medicare and, for several indications, via private insurance. NGS testing in the United States is available in centers of excellence and through test providers with central labs.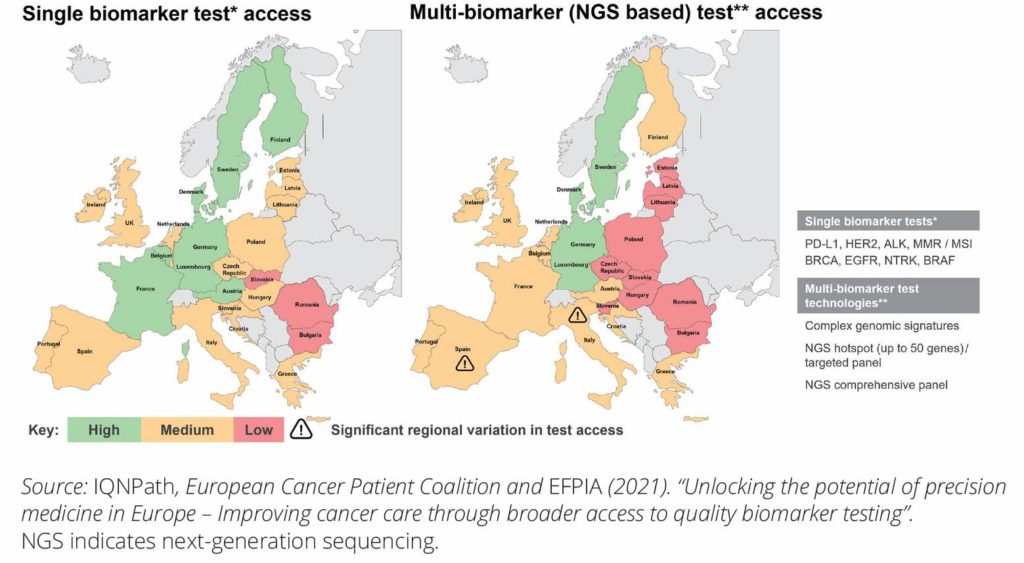 Figure 1 (adapted): Comparing the availability of a non-NGS single biomarker and multibiomarker NGS panel tests.

3. Lack of reimbursement and HTA guidelines for NGS testing:
Undoubtedly one of the key barriers to NGS access is the approach to funding, including the decision making on value assessment and reimbursement. Figure 2 depicts a spectrum of countries in Europe, Asia Pacific, and the Americas and points out variation in current reimbursement of NGS solutions. In Germany there is already a significant reimbursement coverage of NGS panels, on the other hand in Brazil, NGS may only be covered through private insurance and in specific circumstances. There is a clear lack of unified funding schemes and definition of relevant evidence needed that impedes access to NGS in clinical practice and in the end, access to patients.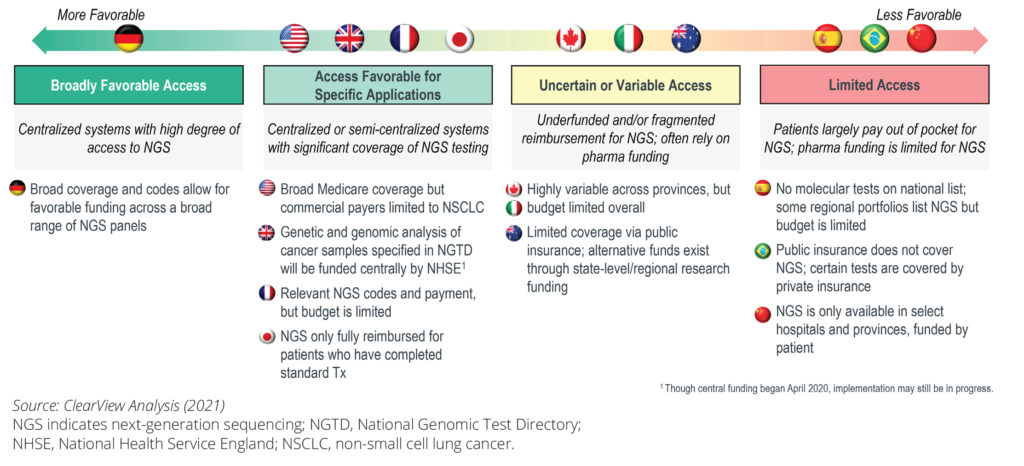 Figure 2 (adapted): Comparing the availability of a non-NGS single biomarker and multibiomarker NGS panel tests across different countries.
Clearly, there is a long way to go in terms of implementation of NGS clinical solutions to the healthcare systems in the most European countries, we believe it will be interesting to see how will the situation change with the new wave of therapies dependent on NGS-based-CDx.
Sources:
https://www.bloomberg.com/news/articles/2022-09-29/illumina-delivers-200-genome-with-new-dna-sequenc...
https://www.ispor.org/publications/journals/value-outcomes-spotlight/vos-archives/issue/view/a-plan-...
https://www.ispor.org/heor-resources/news/2022/09/27/global-experts-introduce-strategic-action-plan-...
https://www.ncbi.nlm.nih.gov/pmc/articles/PMC7892297/